All those scratches across sidewalls combined with rust all over can be a wake up call for you to do something about your car rims. Or, you just want to add some attitude to your car appearance? Sooner or later you will be stuck with dilemma: go wet or go dry! ...
read more
You probably already heard about nitrogen filled tires. If not, you didn't miss much, but if you did, this article will throw some light on this topic. First thing first The nitrogen is the chemical element of atomic number 7, a colorless, odorless (at least for us...
read more
Imperfections in a tire or wheel cause vibration in the assembly as it rotates at high speed. The extra weight creates more centrifugal force in that particular area, and throws the assembly off balance. These uneven forces cause wheel noise, vibration in the passenger compartment, and additional wear on steering and suspension components, bearings, and tires.
read more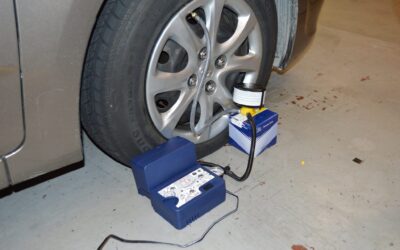 What's worse than a flat tire? The sinking realization that you have no way to fix it. That's the situation more American motorists may find themselves in as 36 percent of 2015 models are sold without a spare tire, according to new research from AAA. That's a steep...
read more
Just by virtue of their size and numbers, about 268 million a year, tires would quickly overwhelm landfills if no attempts were made at finding ways to recycle them. To make things worse, their shape exacerbates things by making them terrific receptacles for...
read more
Acura's RDX doesn't continually gravitate to the top echelons of compact luxury SUV sales leadership by accident. It's finding upwards of 8,000 Canadian buyers per year, placing it a close second behind Audi's Q5 year after year. How does Acura do it? After appealing...
read more
In an industry predicated largely on reinvention, the Jeep Wrangler is an anomaly. One of only a handful of vehicles whose evolution can be plotted on a straight line, its design has remained faithful to the original for decades. Buyers have routinely responded in...
read more
Choosing what sort of gearbox to have in your car used to be simple. If you wanted to change gear yourself, you went for a manual, and if you didn't, you went for an automatic. These days, though, things are rather more complicated. True, manual gearboxes are much as...
read more
There is normally a gap between when an automaker unveils a new model and the announcement of its racing spinoff. But Aston Martin is releasing details and images of the new Vantage GTE racer just eight hours after showing its roadgoing counterpart for the first time....
read more
Udi outlined its plans for several new products today, including a new Q4 SUV that will arrive in 2019. The automaker will make a push for new SUVs in the coming years. A new generation of the Q5 launches this year, while the Q2 will expand to additional markets...
read more
For more than 20 years, the German auto industry has been operating like a cartel, according to a new "bombshell" report, which has sent the shares of Germany's biggest automakers reeling. Spiegel is reporting that the big three German car companies – Volkswagen,...
read more
Heavy-duty pickups will always be inherently compromised by their ability to move small mountains. But this is 2017 and, like their light-duty brethren, these mega work trucks have evolved from covered-wagon roots to embody impressive refinement—and surprising...
read more
It seems the term "pursuit rated" is losing its mojo lately, leading to so-called chase-ready cop cars such as the Ford 2.0-liter EcoBoost Taurus sedan and now this Fusion hybrid. Efficient, sure, but cool? No police chase worth its salt has ever been set...
read more
At a time when so many automakers have trouble thinking beyond 50 shades of gray, Fiat Chrysler seems to follow a "more colors: more better" attitude, particularly with its (many) special editions. We've already seen several color-based special versions of the Dodge...
read more